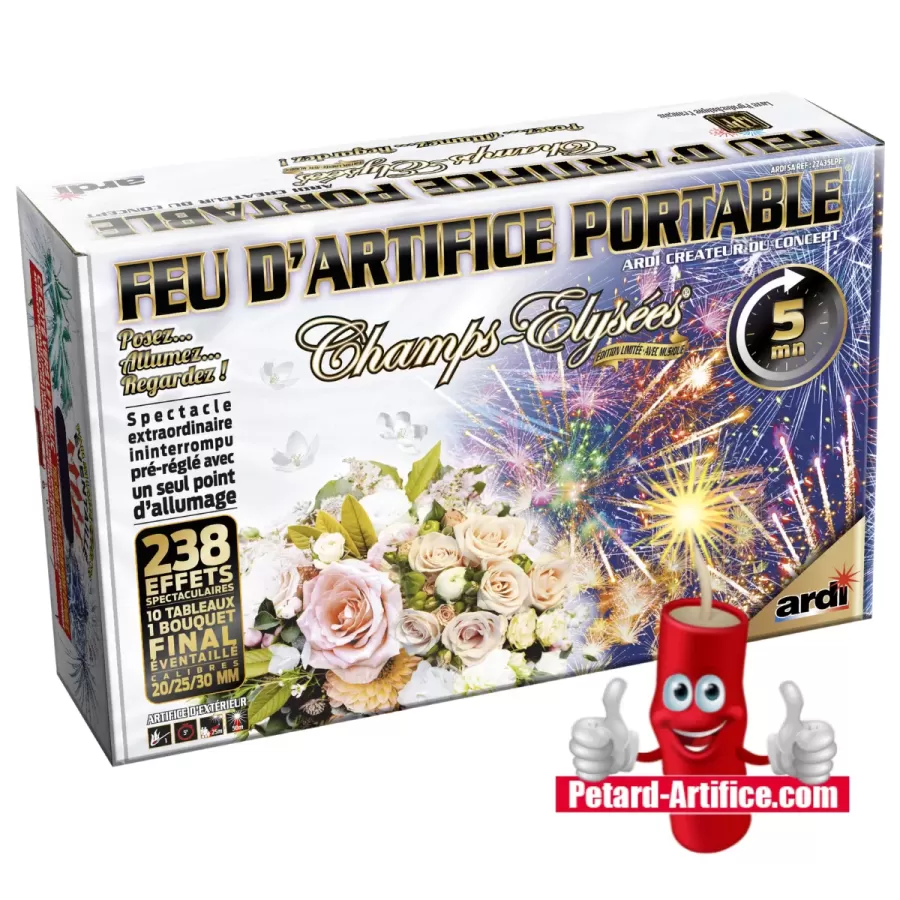 Pack Best Of Pétards
432 grams of explosive material. A pack that should last you a long time. With 2072 firecrackers, you'll have plenty to enjoy. The Best Of Firecracker Pack from Tigre includes all the essentials from the brand: 120 packs of Tigre U2, 24 packs of Tigre Z, 14 packs of Bison 0, and 10 packs of Super Bison 1. This firecracker pack is perfect for those who want to add excitement and noise to their events. Perfect for parties, celebrations, and outdoor events. It's also a great gift for any festive occasion.
Garanties sécurité
Préparation sous 24 heures
Satisfait ou Remboursé 15 jours
The Best Of Firecrackers Pack
The Best Of Firecrackers Pack is the perfect choice for all firecracker enthusiasts who want to have fun and make noise at their events. This pack contains all the essentials from the famous Tigre brand, with no less than 2072 fuse firecrackers to keep you entertained for a long time. Whether you're hosting a party or an outdoor event, these firecrackers are sure to add a touch of excitement and entertainment to your occasion.
With this Best Of Firecrackers Pack, you have the king's choice. If you want to boost the mood of your party or event, nothing beats lighting one or two firecrackers without warning your guests. The surprise and adrenaline rush will be even greater and your guests will surely want to participate. Share them with them and have fun creating your own personalized show where everyone can come up with their own ideas. Kids won't be left out with the famous finger snap firecrackers (not included in this pack) that will amuse them and contribute to lots of laughter.
If you're struggling with gift ideas for a special event like a birthday, retirement, housewarming, or any other festive occasion, consider giving this famous Best Of Firecrackers Pack. It's guaranteed to make jealous and envious recipients! And for fireworks enthusiasts, don't forget to check out the Victoire compact which will light up the sky in Blue, White, and Red. So don't wait any longer, order the Best Of Firecrackers Pack now to have fun and make noise at all your events.
Petard-Artifice.com is your go-to source for all quality firecracker and fireworks products in Europe. With a wide range of products for all budgets, expert advice, and quality customer service, you can be sure to have a successful fireworks experience with us. So don't miss the opportunity to stock up on firecrackers for your next party or event with our Best Of Firecrackers Pack.
This Best Of Pack contains:
120 packs of LE TIGRE U2
24 packs of LE TIGRE Z
14 packs of LE TIGRE BISON 0
10 packs of SUPER BISON 1
Data sheet
Catégorie :

F3

Matière active :

Paquet de :

Length
10 other products in the same category: