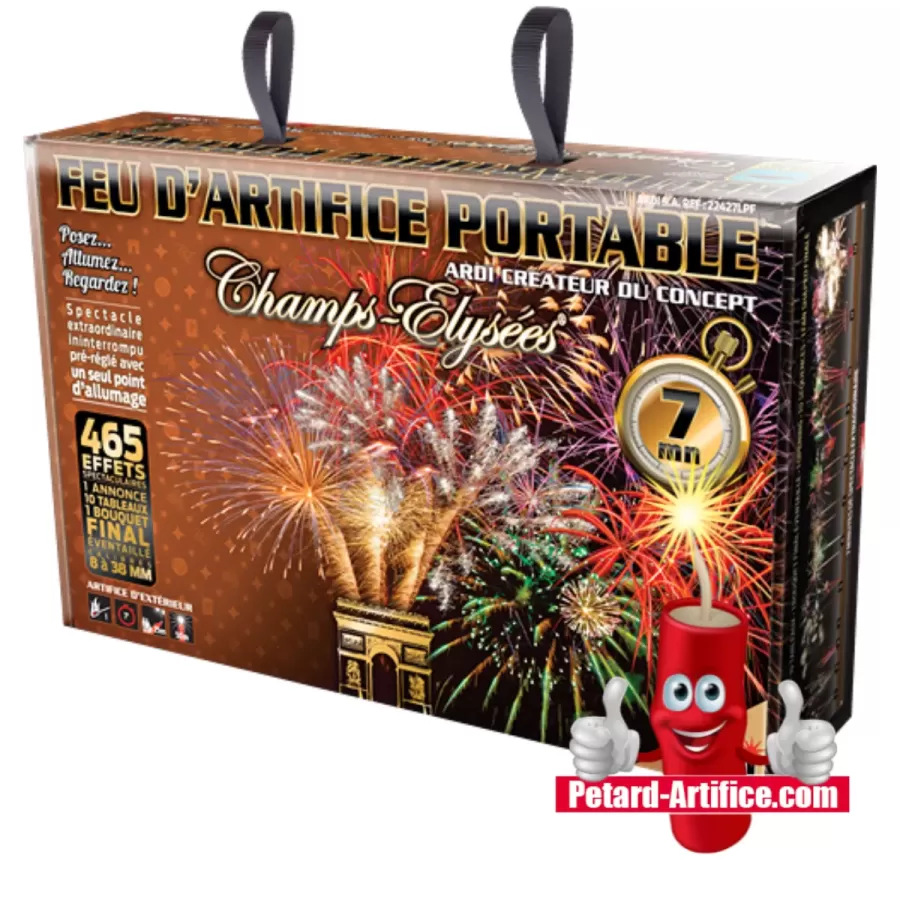 Compact Cléophée - la magicienne
The compact Cléophée - la magicienne is a complete spectacle. With 72 shots of caliber 20 mm, the magic is all yours. Ascending whirls followed by different effects: white glitter, colored peonies, crackling stars. Kamuro effects with gold or silver nets and silver cascading falls. Comets jets, effects with whistles, and final crackling with a big flower.
Garanties sécurité
Préparation sous 24 heures
Satisfait ou Remboursé 15 jours
Compact CLEOPHEE - the magician
Amazed, that is the word that will describe your spectators as they watch the projection of the Compact CLEOPHEE - the magician. This affordable firework provides a complete spectacle. With just one ignition, you will produce 72 different shots, what a gigantic show! Hovering at a height of 30 meters for a duration of 70 seconds, your audience will be faced with a succession of whirlwinds tracing upward curves. At the grand rendezvous, multiple effects accompany the shot: colorful peonies, sparkling whites, crackling stars. In one word, this pack has everything to dazzle your guests.
The diversity of effects is the greatest asset of the Compact Cleophée - the magician. In addition to those mentioned above, other designs will also color and light up the sky for over a minute. Among others, let's distinguish the kamuro effects with golden or silver nets, comet jets, cascading falls in silver, effects with whistles, and the crackling finale accompanied by a large flower. Everyone, men and women alike, will have their share in this great nocturnal spectacle. With a simple, easy-to-install kit, you can perform a magic trick. Who would have thought that a firecracker could reach thirty meters for long enough to contemplate all the shows? Ideal for starting the evening or transitioning from one rocket shot to another, this "full effect" fireworks is suitable for heating up the atmosphere of Christmas, New Year's Eve, receiving the new year, celebrating a family event such as a birthday party or a wedding, etc.
The golden color is perfect for celebrating fifty years of marriage, but also for representing awakening of consciousness and richness. The silver motif, on the other hand, symbolizes 25 years of married life or birth. White and stars mark joy, while colored peonies express a certain degree of freedom. In one word, the Compact Cleophée - the magician conquers the minds of your spectators and makes them live their most beautiful dreams. And why not use a few Roman candles as an introduction to the show?"
.
Data sheet
Catégorie :

F2

Matière active :

Paquet de :

Vente interdite :

- de 18 ans

Length
10 other products in the same category: